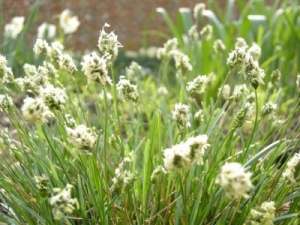 Sesleria insularis£6.50
Pretty grass with narrow blue-green leaves. Useful for the front of a border or the edge of a path.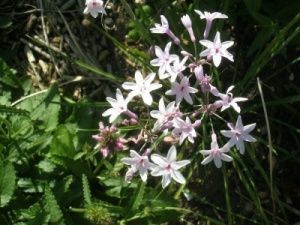 A lovely cultivar with long narrow leaves and umbels carrying up to 9 pale pink-lilac flowers on tall stems from May to September.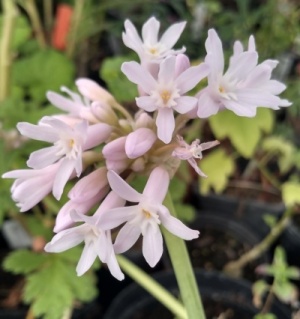 Tulbaghia natalensis£6.50
Society Garlic
Name uncertain. Beautiful, almond-scented creamy-white flowers are held above narrow foliage from mid-late summer. This bulbous plant from South Africa likes a sunny spot in very free draining soil.
Viburnum opulus 'Roseum'£8.50 £6.80
Snowball Tree, Guelder Rose
(Syn, Viburnum opulus 'Sterile'.) A large deciduous shrub, producing large rounded heads of flowers which age to pink, lovely for cutting for a large vase.


Viburnum bodnantense 'Dawn'£12.00 £9.60
Arrowwood 'Dawn'
A large deciduous shrub with masses of sweetly scented pink flowers from autumn-spring. Good food and shelter for insects and birds


Viburnum burkwoodii 'Anne Russell'£8.50 £6.80
Arrowwood
Semi evergreen shrub with clusters of very fragrant white flowers in Spring. Superb as part of a spring scheme with bulbs and other early flowering shrubs. Grow in sun/ part shade in well drained soil.