Ordering over the Christmas Period
Orders placed after Sunday 3rd December will be dispatched on or after 8th January 2023.
CHRISTMAS OPENING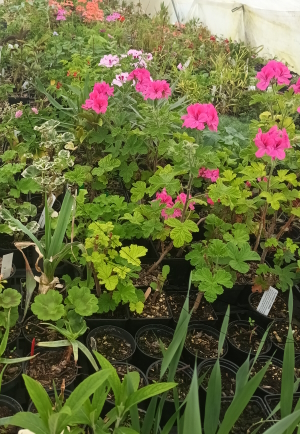 We will be at the nursery most days, typically between 11 and 3, for the selling of Christmas Trees. Please ring me on 07890 527744 to check availability and to confirm that we are here.
Our growing polytunnel is now open for 'supervised browsing' by prior arrangement. This is where we grow plants for mail order so some may not be available, but the vast majority are. Please let me know if you'd like to look round, and are happy for me to accompany you! Generally the best days for me are Thursday, Friday and Saturday, when I'm not packing mail orders.
We are running down our stock of hardy plants, so you may find a few bargains! From now on we are concentrating on our tender and half hardy plants.
Whilst we are getting the nursery sorted we would appreciate it if you could call us on 07890 527744 or email gill@shrublands.co.uk to check our current situation. We are around most days but please check first if you are travelling any distance or are looking for particular plants. See opening times for more information.
Our Address: Shrubland Nurseries, Maltings Farm, Whatfield Road, Elmsett, Ipswich, Suffolk IP7 6LZ
Or find us with What3Words //w3w.co/speaker.glows.farmland This 3 word address refers to an exact 3m x 3m location. Tap the link or enter the 3 words into the free what3words app to find it.
We have moved to our new site which is adjacent to our old site and is still accessed by the same entrance off the main road. Once you drive into the yard with the farm buildings follow the signs to the nursery