Featured Plants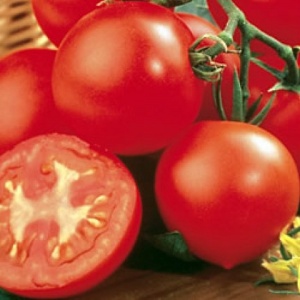 Tomato Shirley F1 - Seeds£3.05
15 seeds approx
An excellent variety for greenhouse production. Produces high yields of juicy standard sized fruits with an excellent flavour. Early cropping cordon.
---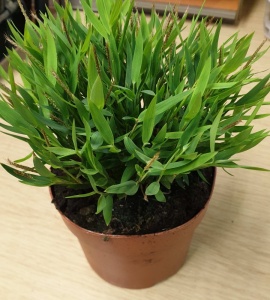 Pogonatherum (Eulalia) paniceum£7.50
An attractive grass forming neat mops of evergreen bamboo-like leaves which will arch gently over the side of a pot. Best kept frost free, though it may take a light frost. Will not tolerate drying out.
---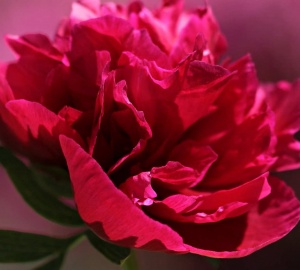 Paeonia lactiflora 'Karl Rosenfield'£12.00
Peony
Herbaceous Peony with large, scented, fully double, crimson flowers from May to June. For fertile, moist, well drained soil in sun or light shade.
---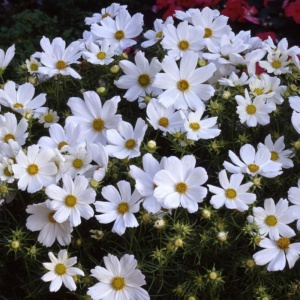 Cosmos Purity Seeds£2.20
100 seeds approx
Lovely tall annual, growing to around 90cm, with fine feathery foliage topped by white daisies with frilly petals in summer. Loved by Bees and Butterflies.
We are currently open BY APPOINTMENT ONLY. We are moving to an adjacent site and are in the process of moving plants over. Please ring us on 01473 657012 or 07890 527744 before visiting.
Plant Fairs
Below are the events we normally attend each year. We are going to concentrate on our Nursery and mail order this year. We are not planning to attend any plants fairs but do check out the events below. Hopefully some at least will go ahead
Norfolk Plant Heritage Spring Plant Fair - CANCELLED
Suffolk Plant Heritage Spring Plant Fair - Helmingham Hall, Helmingham, Stowmarket, Suffolk, IP14 6EF
Suffolk Nurseries Plant Fair - Fullers Mill Garden, West Stow, Bury St. Edmunds, Suffolk, IP28 6HD
Woottens of Wenhaston Plant and Garden Fair - The Iris Field, Hall Road, Wenhaston, Suffolk, IP19 9HF
East Ruston Old Vicarage Garden Event and Plant Fair East Ruston, Norwich, Norfolk NR12 9HN
Suffolk Plant Heritage Autumn Plant Fair - Helmingham Hall, Helmingham, Stowmarket, Suffolk, IP14 6EF
Norfolk Plant Heritage Autumn Plant Fair - Hethersett Village Hall, Back Lane, Hethersett, Norwich, NR9 3JJ